Vortec 8100 / 496cid 2.9L Twin Screw Supercharger Kit
Get ready to make big power with the all-new 2.9L twin screw Whipple supercharger kit only available from Raylar! This tuner kit makes 8lbs of boost with the supplied 3.375 pulley. Up to 12lbs of boost is possible with a simple pulley upgrade.
The 2.9L supercharger produces excellent horsepower and torque in a universal tuner kit that fits under most stock hoods. Expect incredible acceleration and top end power with a flat, towing-friendly torque curve. Twin screw superchargers deliver boost more efficiently than other supercharger systems and provide instant boost at the touch of the throttle.
Our superchargers feature an integrated bypass valve which virtually eliminates parasitic loss under light throttle and improves fuel mileage potential. The 2.9L supercharger features a self-contained lubrication system for ease of install. Upgrade to an oversized integrated heat exchanger and a massive air-to-water intercooler which offers more intake air cooling than any other positive displacement supercharger system available.
The 2.9L supercharger tuner kit does not include fuel pump upgrades, computer program or tuner.
What's Included In The Kit?
Why Whipple Twin-Screw Superchargers?
Twin screw superchargers make more power per pound of boost. The compression sequence inside the supercharger continues on all rotor segments simultaneously.
Inlet Phase – The male and female rotors rotate counter to each other. As the lobes of each rotor travel past each inlet port, air is trapped between consecutive lobes and the cylindrical casing. The air moves forward through the supercharger case and filling the inner-lobe space between adjacent lobes.
Compression Phase - As the rotors mesh, the air is trapped between the rotors and the casing. Continued rotation progressively reduces the space occupied by the air causing compression.
Discharge Phase - Compression continues until the inner-lobe space becomes exposed to the discharge port at the bottom of the supercharger, forcing air into the manifold.
| | | | |
| --- | --- | --- | --- |
| | Twin-Screw | Centrifugal | Roots |
| Response | Idle-to-Redline | Midrange-to-Redline | Low-to-Midrange |
| Driveability | Increased power throughout rpm range. | Must downshift to maintain boost level. | Increased low and mid-range power. |
| Torque Curve | Strong torque delivery at any rpm. | Poor low rpm torque output. | Power fall-off at higher engine speeds. |
| Heat Buildup | Low; intercoolers are usually not needed. | Low; intercoolers are usually not needed. | High; limits boost available. |
| Noise | Low noise levels. | Typically very noisy. | Typically very noisy. |
| Efficiency | 70-85% | 60-80% | 30-65% |
2.9L Supercharger Tuner Kit - $7999
The 2.9L supercharger kit makes 8lbs of boost and is good for 600hp / 690ft-lbs with stock cylinder heads, 202 camshaft and a forged rotating assembly. Our aluminum heads, stroker kits, larger camshaft options and smaller pulley diameters allow you to make substantially more power.
2.9L Twin Screw Whipple Supercharger
Supercharger Discharge Manifold & Gasket
Intake Manifold Base & O-ring
Internal Water To Air Heat Exchanger
Fuel Rails
42lb Fuel Injectors - 60lb injectors available for high boost applications
3 Bolt Throttle Body Adapter
IAT Sensor
Air Filter, Plastic Intake Tube & Couplers
Belts, Tensioners, Idler Plulley Drive Assembly
Tensioner Plate, Tensioner Plate To Water Pump & Cylinder Head Spacers
3.375" Supercharger Pulley, Other Pulleys Available From Whipple
#10 45 Degree Coolant Hose Fitting
9) 8mm x 30 Supercharger Mounting Bolts
Internal Air Bypass Vacuum Hose
Supercharger Pulley Bolts
PVC Fitting For Lower Manifold
3/8" High Pressure Fuel Hose
Supercharger Lubricating Oil
Assorted O-rings For Assembly
Assorted Assembly Bolts
Black Finish Standard, Polished Available At Extra Charge
Intercooler / Heat Exhanger Upgrade - $1599
Our heat exchanger / massive 5L intercooler upgrade keeps your intake charge cool and allows you to run more boost with less risk of detonation.
5L Intercooler / Heat Exchanger
Intercooler Water Pump Motor Relay & Wiring
Coolant Pump & Resorvoir
#10 Fittings For Coolant Discharge Hoses
3/4" Coolant Hoses
3/4" Shrinkable Hose Clamps
Mounting Brackets
90mm Throttle Body Upgrade - $849
Make more power with our LSA throttle body upgrade.
90mm LSA Throttle Body
3 Bolt To 4 Bolt Throttle Body Wiring Adapter
Raylar 511cid Stroker Kit - $3269
Our forged 511 stroker kit are direct replacement parts for stock Vortec rotating assembly.
(511cid stock bore / 518cid 0.030 over)
4.5inch Stroke Forged Crankshaft
Forged I-beam Connecting Rods
Forged Flycut Pistons
Rings & Wristpins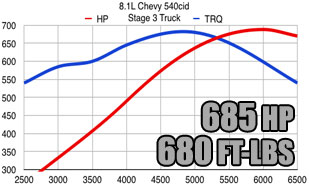 Raylar 540cid Stroker Kit - $3869
Build the ultimate stock-block stroker! Our 4.75" stroke crankshaft, forged I-beam connecting rods and forged pistons replace your exisiting rotating assembly pumping up your displacement to 8.8L / 540cid! Requires block clearance work to fit in stock 8.1L engine blocks.
(540cid stock bore / 547cid 0.030 over)
4.75inch Stroke Forged Crankshaft
Forged I-beam Connecting Rods
Forged Flycut Pistons
Rings & Wristpins
Big Power CNC Aluminum Cylinder Heads - $4259
Our Big Power CNC aluminum cylinder heads out flow every other cylinder head on the market. Expect huge performance gains across the entire powerband.
Lightweight A356T56 Alcoa Alloy Aluminum
Smooth Cast, 5 Axis CNC Centers Machining
Super Alloy Hardened High Strength Steel Valve Seats
Manganese Silicon Bronze Valve Guides
Super Viton In Steel "Top Hat" Valve Seals
High Flow Necked Stainless Steel EV8 11/32" Valve Stems, Black Nitride Strength Treatment
Intake Valve 2.19" / Exhaust Valve 1.75"
Hardened Steel Rocker Arm Studs
107cc Combustion Chambers
315cc High Velocity Intake Port
135cc High Velocity Exhaust Port
Complete 5 Angle Valve Job For Maximum Flow
*Raylar recommends forged rotating assemblies for boost levels over 5 PSI.
Important: We recommend changing spark to AC DELCO 41-932. Gapped to 0.035-0.040.
Important: The minimum fuel octane requirement is 91 octane or higher! Warning: If lower than 91 octane fuel is present in the vehicle, it is mandatory to drain the fuel tank completely and re-fill with 91 octane to 1/8th of a tank.
Want Even More Power?
Need A Tune?
We don't offer computer tuning, but we've met lots of good people who do. Check out our tuner list to find a tuner in your area.
8.1L Computer Tuning
Vortec 8100 / 8.1L 496cid Pistons
The stock Vortec 8.1L cast pistons are not designed to withstand the forces of extreme endurance use, especially in supercharged applications. We routinely see engines with cracked, chipped and even shattered pistons which result in catastrophic engine damage.

We recommend forged rotating assemblies for boost over 5 PSI.
Big Power - A More Complete Burn
We've gone to great lengths to make improvements over the stock cast iron Vortec cylinder head. Our combustion chambers promote a more even burn, increasing engine efficiency, fuel mileage, improving driveability and reducing detonation in supercharged applications.
How Much Air Do Raylar Heads Flow?
Raylar big block Chevy / GMC cylinder heads out flow every 8.1L cylinder head on the market. Below are flow numbers for our standard Raylar CNC heads and our special-order CNC Extreme cylinder heads. We've included the Dart Iron Eagle 8.1L cylinder head in both 4.5 and 4.26 bores for comparison.
Cylinder Head Flow Comparison
Supercharger Camshafts
Low Lift Cams For Stock Cast Iron Heads
BP-202 Towing / RV Camshaft
High torque camshaft. Stock-like idle. Best for daily towing emissions compliant Truck / RV use under 8000lbs. Safe for stock cylinder heads. Powerband: Idle - 4700rpm
BP-203 Street / Strip Camshaft
Street / strip camshaft. Mild lope at idle, excellent daily driver camshaft for Trucks and SUVs. Great power throughout power band. Best for towing applications under 8000lbs. Safe for stock cylinder heads. Powerband: 1400rpm - 5200rpm
BP-111-S Supercharger Camshaft
650SRC low lift supercharger camshaft for stock cylinder heads. Mild lope at idle, excellent daily driver camshaft for Trucks and SUVs. Powerband: 1200rpm - 5600rpm
High Lift Cams For Aluminum Heads
BP-207-S Supercharger Camshaft
800SRC high lift supercharger camshaft, must use Raylar forged pistons. Mild lope at idle, excellent daily driver camshaft for Trucks and SUVs. Powerband: 1800rpm - 6000rpm
BP-206 Max Effort Camshaft
Max effort stock displacement camshaft. Choppy idle. 2500rpm stall recommended. High lift, must use Raylar forged pistons. Works very well with our stroker kits. Powerband: 2200rpm - 5800rpm
BP-213 Race Camshaft
Extreme / race camshaft. Very choppy idle. 3000rpm stall recommended. High lift, must use Raylar forged pistons. Great for all-out stroker applications! Powerband: 2800rpm - 6100rpm
Notice: Installation of Raylar / Whipple supercharger products signifies that you have read this document and have agreed to the terms stated within. It is the purchasers responsibility to follow all installation instruction guidelines and safety procedures supplied with the product as it's received by the purchaser to determine the compatibilty of the product with the vehicle or the device the purchaser intends to install the product on. Whipple superchargers / Raylar assumes no responsibilty for damages occouring from accident, misuse, abuse, improper installation, improper operation, improper programming or computer tuning, lack of reasonable care or all previously stated reasons resulting from imcompatibility with other manufacturer's products. There are no warranties expressed or implied for engine failure or damage to the vehicle in any way, loss of use or inconvenience or labor reimbursement. This includes merchantability and fitness.