Raylar 511cid & 540cid Stroker Kits
Need even more horsepower and torque from your 8.1L Vortec? Our fully forged 4.5 inch or 4.75 inch stroker crankshaft kits turn your stock 496 into a 511cid or 540cid torque monster and comes with crankshaft, connecting rods, pistons, rings and wristpins. This combination works very well with our performance cylinder head and camshaft kits.
Please note - supercharged and overbore applications may require different pistons, please contact us for further information.
Raylar 511cid Stroker Kit - $3269
Our forged 511 stroker kit are direct replacement parts for stock Vortec rotating assembly.
(511cid stock bore / 518cid 0.030 over)
Marine / Street / RV Applications
4.5inch Stroke Forged Crankshaft
Forged I-beam Connecting Rods
Forged Flycut Pistons
Rings & Wristpins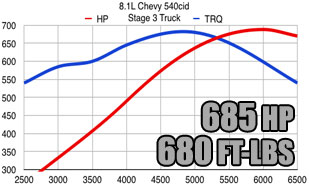 Raylar 540cid Stroker Kit - $3869
Build the ultimate stock-block stroker! Our 4.75" stroke crankshaft, forged I-beam connecting rods and forged pistons replace your exisiting rotating assembly pumping up your displacement to 8.8L / 540cid! Requires block clearance work to fit in stock 8.1L engine blocks.
(540cid stock bore / 547cid 0.030 over)
Street / RV Applications Only
4.75inch Stroke Forged Crankshaft
Forged I-beam Connecting Rods
Forged Flycut Pistons
Rings & Wristpins
Raylar 8.1 / 496 Forged Flycut Pistons
Forged Flycut Pistons
Replace your weak, cast factory pistons with Raylar's proprietary forged piston and ring packages for the Vortec 8100 8.1Liter 496. This is especially important in high horsepower, high-RPM or supercharged applications. These forged pistons incorporate a special hard anodizing and skirt coating system that will allow these pistons to provide even more durability and reduce friction. Raylar's proprietary alloys will allow this piston to run tighter skirt to cylinder wall clearances to help eliminate piston slap noise while providing long life and extra strength. Our new forged pistons are available in standard bore, .010 and .030 oversized. These new pistons will allow our customers to rebuild and upgrade the strength of their 496-8.1 engines. These pistons are capable of horsepower levels of over 800 HP without any fear of mechanical damage. Piston prices may vary depending on application.
4 3/8 Standard Stroke Forged Flycut Pistons
4.5 Stroke Forged Flycut Pistons
Piston Rings
Raylar 8.1 / 496 Forged Connecting Rods
Forged Connecting Rods
Raylar forged I-beam connecting rods are built to handle high horsepower and large displacement applications. Our forged connecting rods can handle well over 800hp.
Raylar 8.1 / 496 Forged Stroker Crankshafts
Forged Crankshafts
Your factory 496 cast crankshaft is built to handle the stock output of the 8.1L Vortec 8100. In performance applications, the crankshaft can become the "weak link" of your engine which can lead to catastrophic engine failure. Our forged crankshafts are a must for any high horsepower or supercharged application. Please note - the 4.75" crankshaft requires clearance machining to fit in stock Vortec 8100 blocks. Please consult your preferred machine shop about clearancing your engine block.
4.5" Stroke Crankshaft (511cid stock bore / 518cid 0.030 over)
4.75" Stroke Crankshaft (540cid stock bore / 547cid 0.030 over)
Rotating Assembly Accessories
> Vortec Crankshaft Reluctors
> High Strength Main / Rods Bearings Kit
> High Strength Main / Rods / Cam Bearings Kit
Stroker Kit Overview
Vortec 8100 / 8.1L 496cid Pistons
The stock Vortec 8.1L cast pistons are not designed to withstand the forces of extreme endurance use. We routinely see engines with cracked, chipped and even shattered pistons which result in catastrophic engine damage.
Forged Rotating Assemblies
Our high-lift kits come with fully forged components, ensuring maximum reliability and performance. In the image above, you can see the additional valve relief clearance which has been built into our pistons for our high-lift series of camshafts.
Vortec 8.1L Intake Manifold Modification
Intake Manifold Modification - $1350
For big block 8.1 liter engines not requiring maximum high-RPM airflow, we can modify your stock 496 / 8.1 liter intake manifold. This intake modification will increase airflow to your big block vortec engine and still retain stock looks and passes emissions. We remove the stock plenum blockages inside the manifold to reduce restriction and free up horsepower and smooth the individual intake runners. Intake manifold modification does not replace the GEN7R manifold but does offer about 70% as much airflow. Intake manifold modification will show gains throughout the low to midrange RPM band. Intake modification is essential if you are considering adding additional cubic inches to your 8.1L engine.